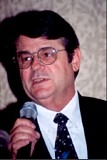 Ronald Story
Ronald Story is an internationally published science writer and honors graduate in philosophy from the University of Arizona.

In 1976, Story founded the original UFO Encyclopedia Project, which resulted in the classic, Encyclopedia of UFOs, published by Doubleday and New English Library in 1980. The Encyclopedia of Extraterrestrials Encounters (New American Library, 2001) is the long-awaited update to that pioneering effort.

He has served as a script consultant to Readerís Digest, CBS News, The National Geographic Society, Time-Life Books, FilmRoos, and PAX TV.

Story graduated with honors from the University of Arizona (in 1970), where he studied philosophy, anthropology, astronomy, logic, and the scientific method. For many years a resident of Tucson, Arizona, he now lives in St. Petersburg, Florida.