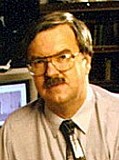 James Oberg (Skeptic)
James Oberg, 56, had a 22-year career as a space engineer in Houston, where he specialized in NASA space shuttle operations for orbital rendezvous, as a contractor employee. He worked at the Johnson Space Center in Houston 1975-1997. In support of NASA's spaceflight operations he has written books on Rendezvous Flight Procedures, on Mission Control Center console operations, and on the history of orbital rendezvous. In honor of his pioneering work on developing and documenting these space shuttle rendezvous techniques, he was named by the NASA-Area "Association of Technical Societies" as their 1984 "Technical Person of the Year". In 1997 he received the "Sustained Superior Performance" award for designing the complex first Space Station assembly mission.

He has written ten books and a thousand magazine and newspaper articles on all aspects of space flight. Among these books are: Red Star in Orbit, generally considered the best inside portrait of the history of Soviet space activities through 1981; New Earths, the world's first non-fiction treatment of the far- out futuristic topic of "terraforming" or "planetary engineering"; Pioneering Space (with his wife as co-author), a broad and insightful view of the human side of the spaceflight experience; The New Race for Space, which described the development and prospects for closer US/Russian space flight cooperation; and Uncovering Soviet Disasters, a penetrating analysis of secrecy and technological shortcomings in the former USSR which received wide praise around the world and even in post-glasnost Moscow. His last book, "Theory of Space Power", commissioned by the US Space Command, described how the United States has achieved space superiority and how it can exploit and maintain it into the next century. He also contributes key articles on space topics to several leading encyclopedias and annual reference books. In 2001 the books "2001: A Martian Odyssey" and "Star-Crossed Orbits: Inside the US/Russian Space Alliance" are scheduled to appear.

Oberg is widely regarded as a world authority on the Russian space program. He has several times been invited to testify before Congress about the problems facing the Russian space industry. He is also on the editorial board of "Air & Space" magazine, sponsored by the Smithsonian's "National Air and Space Museum", and of SPECTRUM, the monthly magazine of the Institute of Electrical and Electronic Engineers. He provides expert assessment and forecasts of Russian space industrial and technological elements for corporate and government clients.

Mr. Oberg has been the space consultant for ABC News and several foreign networks. He has also been the space correspondent for United Press International, and has written columns for space Internet sites from space.com to Galaxy Online to msnbc.com. His book "Red Star in Orbit" was the basis of a 1991 PBS NOVA mini-series devoted to new revelations about the history of the Russian cosmonaut program, and has been optioned to HBO for an up-coming made-for-TV movie. He was consultant and catalog contributor to the two auctions of Russian space memorabilia held by Sotheby's in New York, to the sale of a flown Vostok spacecraft by Kaller's America Gallery of NY, and has been a science display advisor to many planetariums, galleries, & museums.