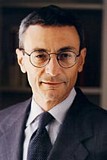 John Podesta
John Podesta served as Chief of Staff to President Clinton. In that capacity, he was responsible for directing, managing, and overseeing all policy development, daily operations, Congressional relations, and staff activities of the White House from October 1998 until January 2001. He coordinated the work of cabinet agencies with a particular emphasis on the development of federal budget and tax policy. He served in the President's Cabinet, and as a Principal on the National Security Council. A frequent guest of Sunday morning news programs, Mr. Podesta is known for his straight talk, acerbic wit, and fierce defense of the Clinton Administration.

Mr. Podesta is currently Visiting Professor of Law on the faculty of the Georgetown University Law Center, a position he also held from January 1995 to 1997. He has taught courses on technology policy, congressional investigations, legislation, copyright and public interest law. He is also a Senior Fellow for the National Resources Defense Council.

Mr. Podesta first served in the Clinton Administration from January 1993 to 1995 as Assistant to the President and Staff Secretary. In that capacity, he managed the paper flow to and from the President. He also served as a senior policy advisor to the President on government information, privacy, telecommunications security and regulatory policy. He is considered one of Washington's leading experts in technology policy, and has written a book, several articles, and lectured extensively in these areas.

In January 1997, Mr. Podesta returned to the White House as an Assistant to the President and Deputy Chief of Staff where he managed policy initiatives, developed overall legislative and communications strategy, and coordinated the selection of senior Administration appointments, including federal judges.

John Podesta has held a number of positions on Capitol Hill including: Counselor to Democratic Leader Senator Thomas A. Daschle (1995-1996); Chief Counsel for the Senate Agriculture Committee (1987-1988); Chief Minority Counsel for the Senate Judiciary Subcommittees on Patents, Copyrights, and Trademarks; Security and Terrorism; and Regulatory Reform; and Counsel on the Majority Staff of the Senate Judiciary Committee (1979-1981).
In 1988, Mr. Podesta founded with his brother Tony, Podesta Associates, Inc., a Washington, D.C. government relations and public affairs firm.

A Chicago native, Mr. Podesta worked as a trial attorney in the Department of Justice's Honors Program in the Land and Natural Resources Division (1976-1977), and as a Special Assistant to the Director of ACTION, the federal volunteer agency, (1978-1979). He has served as a member of the Council of the Administrative Conference of the United States, and the United States Commission on Protecting and Reducing Government Secrecy.

Mr. Podesta is a 1976 graduate of Georgetown University Law Center, and a 1971 graduate of Knox College. He is married to Mary S. Podesta, a Washington, D.C. attorney. They have three children. He is an avid runner and a dedicated fan of roller coasters and "The West Wing."