Revelations: Alien Contact and Human Deception
Jacques Vallee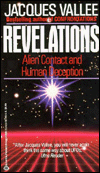 The bestselling trilogy from the world's foremost UFO authority concludes with a powerful and controversial document that separates the facts about extraterrestrial visits from the fabrications. Other titles are Dimensions and Confrontations. (Parapsychology)

choose one of the following:
Further information, reviews, & details
---
Annotation

The bestselling trilogy from the world's foremost UFO authority concludes with a powerful and controversial document that separates the facts about extraterrestrial visits from the fabrications. Other titles are Dimensions and Confrontations. (Parapsychology)


From the Publisher
"[A] bracing finale to Vallee's 'Alien Contact trilogy'...A forceful and refreshingly iconoclastic study."

THE KIRKUS REVIEWS

In REVELATIONS, Dr.Vallee, the inspiration for the character played by Francois Truffaut in Steven Spielberg's CLOSE ENCOUNTERS OF THE THIRD KIND, analyzes the full gamut of sensational UFO "incidents" From the alleged history of saucer "crashes" and the retrieval of aliens by the U.S. government to reports of a subterranean community of hostile humanoids in the American Southwest, this is part scientific detective sotry, part experiement in truth seeking, REVELATIONS and is an astonishing document that is certain to provoke controversy.
The two earlier books in Dr. Vallee's Alien Contact trilogy are DIMENSIONS and CONFRONTATIONS.


From The Critics
Publisher's Weekly

Astrophysicist Vallee's venture into parapsychology is less likely to lure or convert skeptics than did the two previous volumes ( Dimension and Confrontations ) in his trilogy. Many readers will find a strain of paranoia in the author's argument that a lot of so-called sightings of unidentified flying objects in the past 40 years are the result of ``complex hoaxes . . . carefully engineered for our benefit,'' with witnesses the victims. These incidents, Vallee believes, have been arranged by private groups with fantastic delusions which they want to spread, or by government agencies engaged in psychological warfare. He cites instances of willing dupes taken in by bizarre tales--one contended that aliens now working here had been captured by the U.S. military; another that a subterranean community of humanoids toiled beneath the New Mexico desert. Illustrations not seen by PW. (Oct.)

Library Journal

Vallee, a respected investigator in a difficult field (he was the real-life model behind the French scientist in Steven Spielberg's film Close Encounters of the Third Kind ), here presents the final volume of his recent trilogy of reports. (The first two are Dimensions: A Casebook of Alien Contact , Contemporary Bks., 1988, and Confrontations: A Scientist's Search for Alien Contact , LJ 3/1/90.) Readers with some background in the puzzling UFO phenomenon of the last 40 years will appreciate his insights. He pulls no punches with both government obfuscation and the lunatic fringe of UFO cultists. Most valuable is his international scope. There are few answers here, but several suggestions for rational lines of research. Recommended.-- Jeanne S. Bagby, formerly with Tucson P.L., Ariz.