| | |
| --- | --- |
| *Click on a book title or image to view the full report | |
click on "Next Page" to see more books in this section

Alien Identities : Ancient Insights into Modern UFO Phenomena
Richard L. Thompson
This is the intelligent fair and logical examination of modern UFO phenomena that countless readers have been looking for written by a renowned scientist and philosopher. also explores possible UFO incidents recounted in the the ancient Vedic DESCRIPTIONs of flying craft floating cities cosmic battles and other wonders. It examines the extraordinary and the extraterrestrial in European folk tales and looks at religious reports of miraculous visitations particularly the 1917 apparition at Fatima Portugal bringing fresh and convincing insights into the identity and purposes of UFO visitors throughout the centuries.
---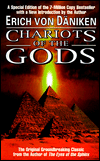 Chariots of the Gods
Erich Von Daniken
A work of monumental importance--the first book to introduce the shocking theory that ancient Earth had been visited by aliens. This world-famous bestseller has withstood the test of time, inspiring countless books and films, including the author's own popular sequel, The Eyes of the Sphinx. But here is where it all began--von Däniken's startling theories of our earliest encounters with alien worlds, based upon his lifelong studies of ancient ruins, lost cities, potential spaceports, and a myriad of hard scientific facts that point to extraterrestrial intervention in human history. Most incredible of all, however, is von Däniken's theory that we ourselves are the descendants of these galactic pioneers--and the archeological discoveries that prove it.
---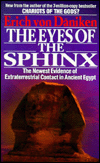 Eyes of the Sphinx: The Newest Evidence of Extraterrestrial Contact in Ancient Egypt
Erich von Daniken
Twenty-eight years ago, Erich von Daniken first presented his theory of alien contact with the ancient world - a theory so incredible, yet so logical and convincing, that it has become part of a wide-ranging debate that continues to this day. His claims that an alien race helped create the pyramids of Egypt were based upon the ruins themselves. And it is these ruins that now provide researchers with a never-ending source of clues - new discoveries, new revelations, new evidence that Earth was indeed colonized by an alien race...
---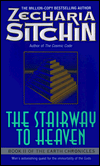 Stairway to Heaven
Zecharia Sitchin
After years of painstaking research—combining recent archaeological discoveries with ancient texts and artifacts—noted scholar Zecharia Sitchin has identified the legendary Land of the Gods...and provided astounding new revelations about the Great Pyramids, the Sphinx, and other mysterious monuments whose true meanings and purposes have been lost for eons. Since earliest times, humanity has pondered the incomprehensible mysteries of the universe, life...and the afterlife. Was there somewhere on Earth where, after death, mortal man could join the immortal Gods? Where was this place? By whom was it established? And does it still exist today?
---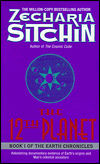 The 12th Planet
Zecharia Sitchin
Over the years, startling evidence has been unearthed, challenging established notions of the origins of Earth and life on it, and suggests the existence of a superior race of beings who once inhabited our world. The product of thirty years of intensive research, THE 12TH PLANET is the first book in Zecharia Sitchin's prophetic Earth Chronicles series — a revolutionary body of work that offers indisputable documentary proof of humanity's extraterrestrial forefathers. Travelers from the stars, they arrived eons ago, and planted the genetic seed that would ultimately blossom into a remarkable species...called Man.
---

The Sirius Mystery: New Scientific Evidence of Alien Contact 5,000 Years Ago
Robert K. Temple
Publication of The Sirius Mystery in 1976 set the world abuzz with talk of an extraterrestrial origin to human civilization and triggered a 15-year persecution campaign against Robert Temple by the KGB, CIA, NASA, and other government agencies. Undaunted, however, Temple is back, with 140 pages of new scientific evidence that makes his hypothesis more compelling than ever.
---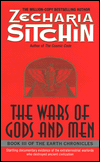 The Wars of Gods and Men
Zecharia Sitchin
The Wars of Gods and Men, recounting events closer to our times, concludes that the Sinai spaceport was destroyed 4,000 years ago with nuclear weapons. Photographs of Earth from space clearly show evidence of such an explosion. Such gratifying corroboration of audacious conclusions has been even swifter for The Lost Realms.
---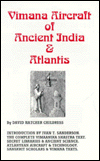 Vimana Aircraft of Ancient India and Atlantis
David Hatcher Childress
The author/editor provides us with a translation of ancient texts from India which purport to describe aircraft construction and operation. He then makes comments about the subject, including excerpts from related works. The point is that, according to Childress and others, the ancient civilization of India had made technological advances equaling and perhaps surpassing our own before it was mysteriously destroyed--perhaps in a nuclear war!
---
Click on "Next Page" to see more cases in this section