June 20, 1978 - Rio De Janeiro, Brazil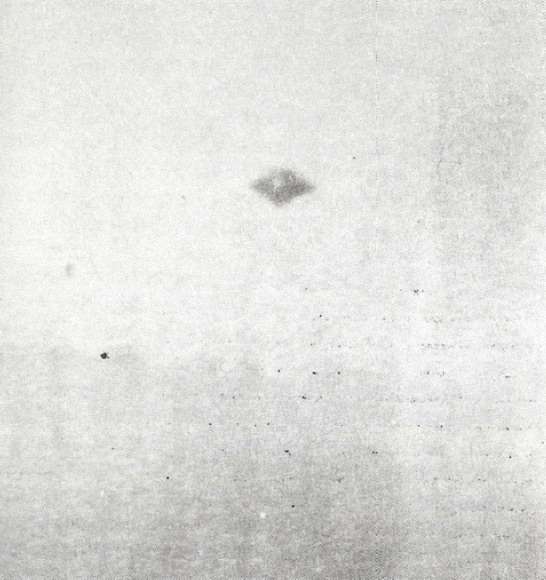 Background Information / Description:
"TWO PHOTOS FROM BRAZIL" (excerpt)
APRO Bulletin, Nov. 1978

The following report was forwarded tp Headquarters by Sal Giamusso of New York, who interviewed the principal. The photo taken by Mr. Janusas is identical to one taken by Joshua da Silva near Passo Fondo, Brazil two years earlier [refer to the Passo Fondo, Brazil 1976 photo in the UFO photo gallery].

Mr. Saul Janusas (Electrical Engineer) of Sea Cliff, New York, was in Brazil on business at the time of the incident. After completing work at the International Airport of Rio DeJaneiro that day of June 20 or 21, 1978, Mr. Janusas caught the 5 P.M. bus (Paranapuan Bus Company) to Copacabana for home. About a mile out from the airport Mr. Janusas observed an object through the bus window at approximately 10° to 15° toward his front (from an imaginary line perpendicular to the broadside of the bus). Not believing what he saw, Mr. Janusas grabbed for his camera and snapped a picture. Mr. Janusas estimates that the time to change frames and reorient the camera on the object took about 20 seconds before the second picture was taken. Almost right after the second frame was taken, the bus made a right turn which caused the object to be obscured from Mr. Janusas' vision. A sketch of the sequence of pictures taken is included to help clarify any questions. Whether anyone else saw the object is not known at this time. The few other people on the bus at the time of Mr. Janusas' sighting were Portugese. This caused Mr. Janusas to refrain from alerting anyone else of the object, (note: Mr. Janusas suspects that the second picture taken might have been of a second object. He did take his eyes off the object while he was changing frames - just a thought.)

... It is interesting to note how closely the Janusas and da Silva photos resemble the Trindade photos of 1957.


Source / Credit: APRO Bulletin, Nov. 1978
Photograph ID: 365
ID: 365
FAIR USE NOTICE: This page may contain copyrighted material the use of which has not been specifically authorized by the copyright owner. This website distributes this material without profit to those who have expressed a prior interest in receiving the included information for research and educational purposes. We believe this constitutes a fair use of any such copyrighted material as provided for in 17 U.S.C § 107.