July 11, 2004 - Watford, Hertfordshire, United Kingdom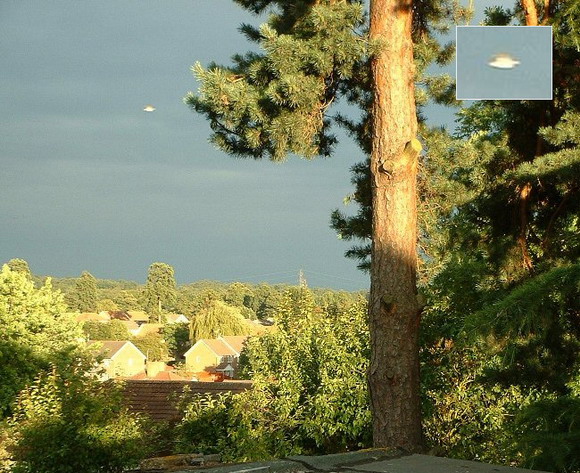 Background Information / Description:
Sighting Time: 7.15pm
Day/Night: Daytime
Duration: digital photo when dowloaded
Urban or Rural: semi rural
No. of Object(s): Single
Size of Object(s): helicopter size
Distance to Object(s): 1 to 2 miles
Shape of Object(s): disk
Color of Object(s): white

Full Description & Details: I have retained the Smart Media card,that the photo is on,Have also downloaded to computer disc.

-------

From a follow-up email from the witness: "Thought I,d get your views,on this Image from my Digital Camera,that appeared in this shot over the back of my Garden on Sunday Evening 11th July 2004 at around 7.15 pm. Is it a Bird or is it a Plane or Just Maybe Men from Mars. No Kidding its an unretouched Image ,didn't actually notice anything in the viewfinder,only noticed when viewing on The computer,would be interested in your Thoughts on the subject."

Personal Background: Retired engineer/builder, active golfer.

Other Comments: My Digital Photo sent to your e/mail addresss info@uofoevidence.org

Reported To: family & friends
Location: England UK

Source / Credit: Original photograph submitted to UFO Evidence
Photograph ID: 239
ID: 239
FAIR USE NOTICE: This page may contain copyrighted material the use of which has not been specifically authorized by the copyright owner. This website distributes this material without profit to those who have expressed a prior interest in receiving the included information for research and educational purposes. We believe this constitutes a fair use of any such copyrighted material as provided for in 17 U.S.C § 107.