September 29, 2001 - Hungary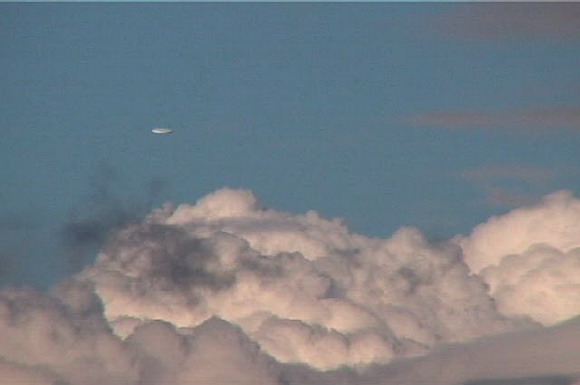 Background Information / Description:
BUDAPEST, Hungary - A military pilot recorded a spectacular video of a silver disk object on September 29, 2001. The craft was flying to his left side and then moved very fast past him in the clouds as can be seen in the video.

"I was on a flight over Budapest, Hungary," said the pilot, who has requested that his name be withheld until the official inquiry by the Hungarian Ministry of Defence is complete.

"To my left I saw a bright metal aircraft that was the shape of a perfect disk. I was careful to film the object, not to try and chase it since it I could not match its speed. As I was flying a reconnaisance aircraft, I got the idea to film it and used our equipment."

Officials at the Ministry of Defence would not answer questions about the video when asked and warned that officially they have no comment. Despite the denial, when informed of the pilot's name, they did acknowledge that the he was a real air force pilot and that it was true that he flew photo reconnaisance airplanes.

The pilot considers the video he made to be his property and not the Hungarian governments as he was flying the plane while not on duty and was transporting it as a favor to save the government money. He has now hired an attorney and wants the video to be released to the public. He hopes the release of a few frames will make this happen.

[from Hungarian press news article, translated into English]
Photograph ID: 62
ID: 62
FAIR USE NOTICE: This page may contain copyrighted material the use of which has not been specifically authorized by the copyright owner. This website distributes this material without profit to those who have expressed a prior interest in receiving the included information for research and educational purposes. We believe this constitutes a fair use of any such copyrighted material as provided for in 17 U.S.C § 107.