1943 - Japanese Sea, Japan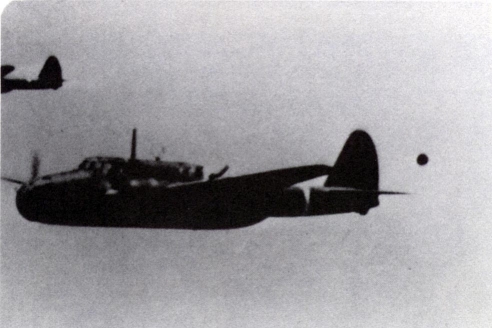 Background Information / Description:
Numerous UFOs photographed during WW2. They received the nickname "Foo Fighters" from a maxim used by a cartoon comic character Smokey Stover. This comic was a favourite among US forces during WW2. Picture source : UFO Magazine UK Jan/Feb 2000. In this photograph, a Japanese Sally Bomber flies over the Japanese Sea in 1943, followed by a dark sphere.
Source / Credit: UFO Magazine UK Jan/Feb 2000, reprinted on UFOArtwork.com Original source webpage / article
Photograph ID: 133
ID: 133
FAIR USE NOTICE: This page may contain copyrighted material the use of which has not been specifically authorized by the copyright owner. This website distributes this material without profit to those who have expressed a prior interest in receiving the included information for research and educational purposes. We believe this constitutes a fair use of any such copyrighted material as provided for in 17 U.S.C § 107.