Nov 6-14, 2001 - Resolute Bay, Canada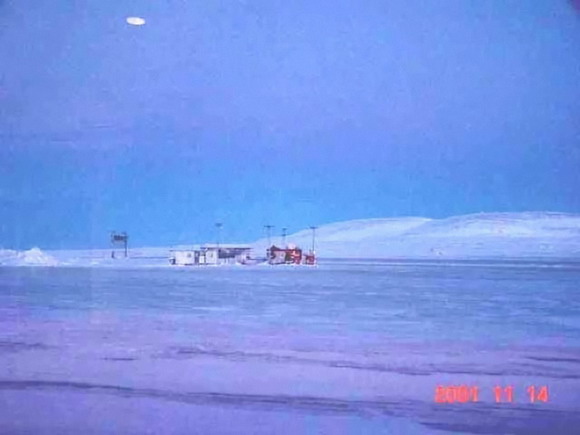 Background Information / Description:
Resolute Bay, Canada

Date: Week of November 6th to Nov 14th 2001
Time: 12:45 p.m.

Hello, my story starts with a visit to Cornwallis Island on the week of Nov 6th to Nov 14th 2001.

After my visit was complete we departed Cornwallis Island and flew to Resolute. We had about a 3 hour wait for our connecting flight to Nanisivik. So we stayed in the airport and waited for our plane to show up.

On a previous project I had purchased a new Sony digital top of the line camera and I had this with me for the site visit to document an area where I was going to, etc.

I took several shots of the surrounding airport terrain and when I got back to the office a week later I went through the 100 plus photos. To my surprise picture number 97 had an object in the background. This shot was taken at approx. 12:45 in the afternoon in the direction of the end of the runway.

I have enlarged this photo and examined it in many ways. It sends a little chill up and down my spine every time I look at it. My friends and work colleagues are speechless . Those that are do not believe in UFO's don't know what to say or can't.

When you enlarge this photo you will see this object at an angle and underneath it you can see three columns of disfigured airspace (possibly drives). The afternoon was clear and crisp and the shacks at the end of the runway clearly are proportionate to the object passing just past the end of the runway. I did not see the object to take this photo I pointed at the end of the runway and took the shot, what was in the shot as I said was discovered later.

Let me know what you think of this photograph.

Regards


I would like to thank the witness for the report and photo. Also some information was removed from this report to keep the witnesses identity private. Posted with permission.


Brian Vike, Director
HBCC UFO Research
Canadian Toll Free UFO Hotline 1 866 262 1989 - Free call.
Home - Phone/Fax 1 250 845 2189
HBCC UFO Forum Board
http://216.147.50.102/HBCC-UFO/index.php
email: hbccufo@telus.net
Website: http://www3.telus.net/public/wilbur8/hbcc_ufo_research.htm
Source / Credit: Brian Vike, HBCC UFO Research
Photograph ID: 8
ID: 8
FAIR USE NOTICE: This page may contain copyrighted material the use of which has not been specifically authorized by the copyright owner. This website distributes this material without profit to those who have expressed a prior interest in receiving the included information for research and educational purposes. We believe this constitutes a fair use of any such copyrighted material as provided for in 17 U.S.C § 107.