September 03, 1993 - Earth Orbit - METEOSAT photo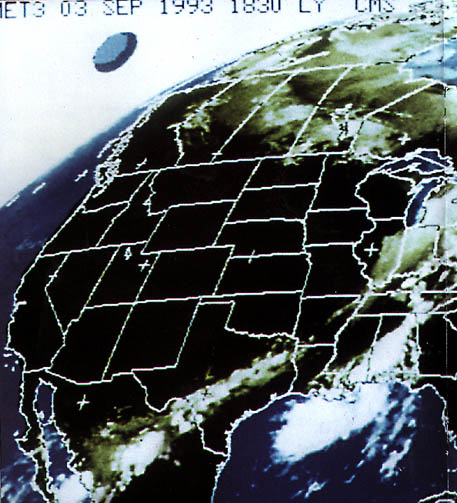 Background Information / Description:
September 03, 1993,
Earth Orbit - METEOSAT photo

In 1991, the New York State Physics teacher Philip J. Imbrogno discovered that meteorological satellites sometimes send strange images down to Earth. He published several of these images, received from the geosynchronous GOES-Satellites of NOAA, which show egg-shaped objects in the Earth Orbit. Critics immediately came up with an explanation: According to them, they were mere "moonshadows".

This explanation was maybe acceptable when the first images showed no details. But after Chilean researchers published photos of a structured saturn-shaped craft of 400-600 feet in diameter, it immediately collapsed.

Meanwhile, Italian researcher Adriano Forgione published this image, received by the Italian radio amateur Vittorio Orlando on September 3, 1993 at 6.30 p.m. from the METEOSAT weather satellite, stationed in an altitude of 95.000 feet. In the original as well as in the enlargement, a dome and a surrounding ring are clearly visible. Another moonshadow? Or indeed a "structured craft"?

Photograph ID: 31
ID: 31
FAIR USE NOTICE: This page may contain copyrighted material the use of which has not been specifically authorized by the copyright owner. This website distributes this material without profit to those who have expressed a prior interest in receiving the included information for research and educational purposes. We believe this constitutes a fair use of any such copyrighted material as provided for in 17 U.S.C § 107.