September 7, 2004 - Zion National Park, Utah, USA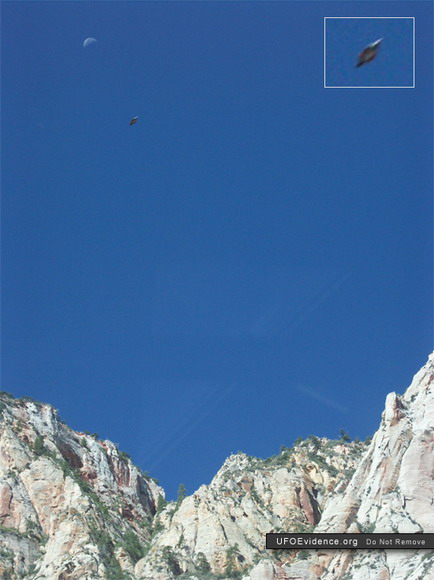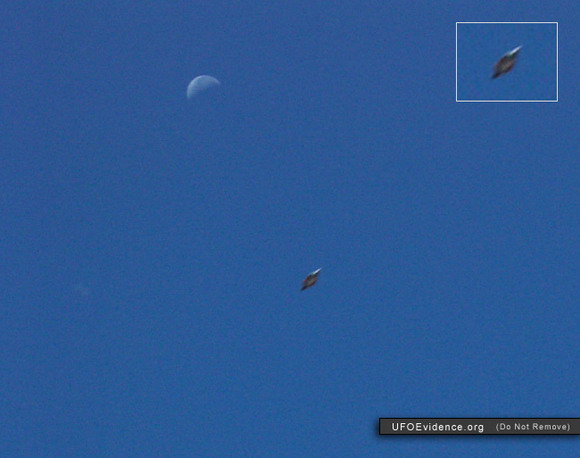 Background Information / Description:
[These are 2 different versions of the same photograph.]

SUMMARY:
This image was taken from the Zion National Park shuttle. After taking the image, I noticed a small dark spot on the LCD screen, but thought it was a bird.

FULL DESCRIPTION & DETAILS:
While on a road trip through Arizona and Utah on Labor Day weekend, 2004, my son and I visited several national parks. We stopped for a very brief visit in Zion National Park near Cedar City, Utah. I took 27 photographs in the park on the morning of September 7. The accompanying image, #22, is the only one with anything unusual. It is the raw, unmodified, image taken by my Minolta Dimage A7 camera.

Unfortunately, I didn't realize that I had imaged a UFO until I was back home that evening.

This is a first for me. I've never seen anything like it before. I've been looking for similar photographs on the web, and for others who may have captured the same object, but so far without success.

Sighting Time: 8:48AM
Day/Night: Daytime
Duration: Unknown: Discovered on photograph later
No. of Witnesses: 0 (we were unaware at the time)
Urban or Rural: Rural (Zion Natl Park)
No. of Object(s): Single
Size of Object(s): Same diameter as moon (see photo)
Distance to Object(s): unknown
Shape of Object(s): disk
Color of Object(s): metallic gray

PERSONAL BACKGROUND:
I'm a software engineer with a Ph. D. in Applied Physics

Reported Sighting? Yes
Reported To: NIDS (Colm Kelleher)
Location: Ramona, CA
Age: 51

Date Posted: 1/1/2005 5:06:23 PM
Photograph ID: 353
ID: 353
FAIR USE NOTICE: This page may contain copyrighted material the use of which has not been specifically authorized by the copyright owner. This website distributes this material without profit to those who have expressed a prior interest in receiving the included information for research and educational purposes. We believe this constitutes a fair use of any such copyrighted material as provided for in 17 U.S.C § 107.