| | |
| --- | --- |
| *Click on a book title or image to view the full report | |
click on "Next Page" to see more books in this section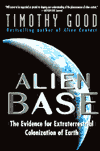 Alien Base: The Evidence for Extraterrestrial Colonization of Earth
Timothy Good
In his popular books Above Top Secret, Alien Contact, and Beyond Top Secret, Timothy Good has focused on the worldwide involvement of the intelligence community in UFO research, sightings by witnesses such as military and civilian pilots, and the recovery of alien vehicles. Now this bestselling writer concentrates on reports of actual encounters with extraterrestrial beings, presenting evidence that Earth is actually the base of operations for several alien species.
---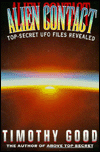 Alien Contact: Top-Secret UFO Files Revealed
Timothy Good
In his international bestseller Above Top Secret, Good showed evidence that the U.S. and other governments have channeled millions into UFO research. Now, Good exposes the startling results of this research, based on secret government files and scores of interviews with key U.S. millitary, scientific, and intelligence personnel. Photos and illustrations.
---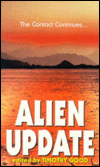 Alien Update
Timothy Good
Collecting a wealth of recent UFO reports and essays, Good has compiled his findings in this volume. Featuring worldwide UFO data, this informative book includes pieces from Chinese, Russian, European, and South American essayists who share their knowledge and theories. Readers will also find useful listings of UFO organizations, UFO journals and available services. Original.
---

Beyond Roswell: The Alien Autopsy Film, Area 51, and the U.S. Government Cover-up of UFOs
Michael Hesemann, Philip Mantle
Drawing on top-secret government documents, eyewitness reports, and interviews -- many of which are reproduced verbatim -- the authors piece together, for the first time, the true chronology of events: a first UFO crash near Socorro, New Mexico, in May 1947, in which four aliens were recovered; the autopsy of the first of those aliens in Fort Worth, Texas, which was filmed by an army cameraman (the sensational "alien autopsy" footage that was broadcast in 1995 by Fox Television); and finally, the July 4 crash in Roswell, in which three more badly mangled alien bodies were recovered.
---
---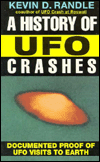 History of UFO Crashes
Kevin D. Randle
The renowned co-author of The UFO Crash at Roswell compiles a comprehensive survey of this popular field. Randle uncovers reports of other sightings, stories and documented rumors, and collected witness testimony to other incidents including areas of Arizona, Florida, Nevada, New Mexico and Pennsylvania, over the last five decades. Original.
---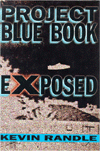 Project Blue Book Exposed
Kevin D. Randle
For twenty-two years, the Air Force attempted to learn what it could about the phenomena they called UFOs. During those years, they investigated more than twelve-thousand sightings including landings, occupant reports, photographs, radar cases, and intercepts by military jet fighters. In many instances plausible explanations were advanced, but nearly one-thousand sightings were marked as unidentified. These are the cases investigated by Project Blue Book Exposed, and exhaustive study of previously classified files.
---
---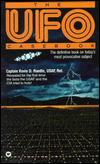 UFO Casebook
Kevin D. Randle
Exhaustively researched and thoroughly documented--with newly revealed information buried for years in U.S. government files--The UFO Casebook is the only source tracing UFO history from the first modern sighting to the present day.
---

UFO: The Complete Sightings
Peter Brookesmith
Here, for the first time, is an historical catalog of sightings, presented in an objective style--with neither the passionate claims of the converted nor the skeptical "debunking" that refuses to acknowledge a single shred of evidence. In this comprehensive volume, Peter Brookesmith describes hundreds of UFO reports in chronological order and focuses in detail on the major cases. Each chapter covers a specific area with an analysis of the most intriguing aspects of each period as well as the details of cases in date order. 9" x 13". Color & b&w photos.
---

UFOs: The Secret History
Michael Hesemann
The coauthor of "Beyond Roswell" presents this definitive history of 50 years of UFO research. Using documents, secret files, research reports, and photos, he portrays 50 years of international evidence that may signal the beginning of a new era. 480 photos, 80 in color.
---
Click on "Next Page" to see more cases in this section