9 May 1984, 8.15 p.m. - Hoboken, New Jersey, USA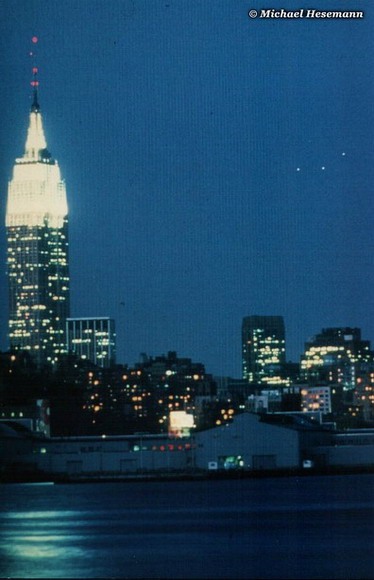 Background Information / Description:
9 May 1984, 8.15 p.m.,
Hoboken/New Jersey:

After I heard of the interesting UFO encounters over New Jersey in July 2001, I remembered this interesting photo. It was taken by Felippe Orego from Hoboken, New Jersey, showing a triangular UFO (or three UFOs in a V-formation) over the skyline of Manhattan. Orego sent it to my late friend and teacher Col. Colman VonKeviczky (ICUFON), who passed away three years ago and will always be remembered as one of the great pioneers of the international UFO research. He investigated the case and classified the picture as genuine.

Source / Credit: Michael Hesemann, originally from Col. Colman VonKeviczky Original source webpage / article
Photograph ID: 39
ID: 39
FAIR USE NOTICE: This page may contain copyrighted material the use of which has not been specifically authorized by the copyright owner. This website distributes this material without profit to those who have expressed a prior interest in receiving the included information for research and educational purposes. We believe this constitutes a fair use of any such copyrighted material as provided for in 17 U.S.C § 107.