UFO Case Report:
The Stephen Michalak Encounter at Falcon Lake
Date: May 20, 1967
Location: Falcon Lake, Manitoba, Canada
Stephen Michalak of Winnipeg, was prospecting near Falcon Lake, Manitoba, when he encountered two UFOs, one of which landed on a large, flat rock about 160 feet away from him. After having approached the object and looked inside, the object moved, and something like an exhaust vent was now in front of him. A blast of hot gas shot from these holes onto his chest, setting his shirt and undershirt on fire and causing him severe pain, and leaving burn marks in the shape of a grid.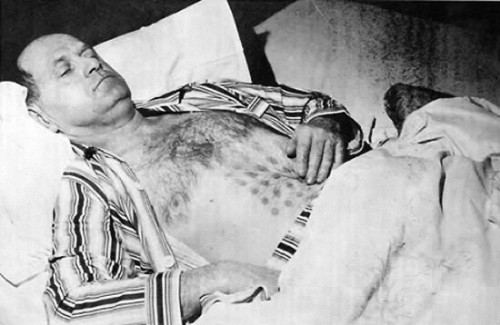 Stephen Michalak with grid-like burns caused by the blast of hot gas from the UFO.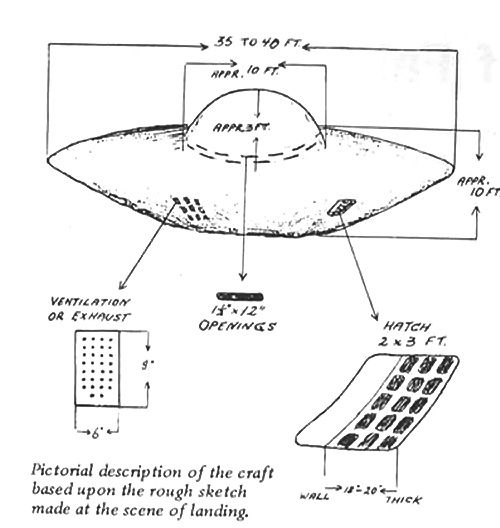 Pictorial depiction of the craft based upon the witness' rough sketch made at the scene of the landing.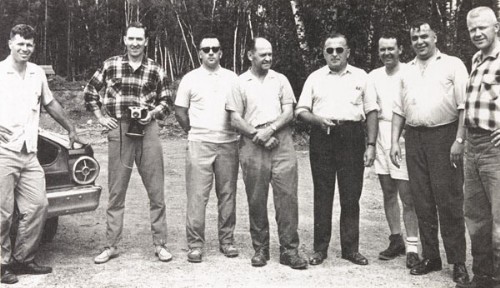 Investigation team. Stephen Michalak is fourth from the left. (source: "My Encounter with the UFO" by Stephen Michalak.)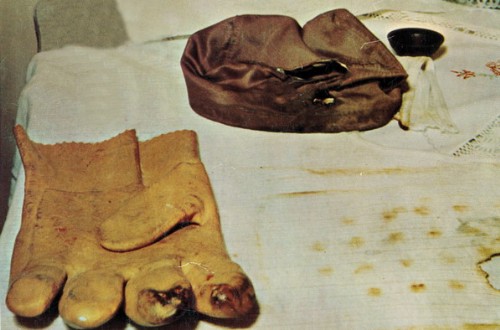 Photograph showing Michalak's burnt glove, cap and shirt. (from the cover of his book, "My Encounter with the UFO.")
Classification & Features
Type of Case/Report: MajorCase
Hynek Classification: CE2
Special Features/Characteristics: Physiological Effects, Landing, Injury, Witness Photo, Witness Sketch


More Articles on this Case
Chris Rutkowski
One of the most intriguing cases of serious injury attributed to a UFO experience is that of Stefan Michalak.* He returned home from a prospecting expedition with serious ill effects that he claimed were a result of an extraordinary UFO encounter (Rutkowski 1981a). R
The Condon Report
Investigation and report by the Condon Committee (University of Colorado UFO Project) into the Steven Michalaka UFO Case. The investigator was Roy Craig. R
Print / Other References
Brian C. Cannon, 'Strange Case of Falcon Lake' (3 parts) in Canadian UFO Report, vol. 1 nos. 2-4 (1969).
Chris Rutkowski, 'The Falcon Lake Incident' (3 parts) in Flying Saucer Review, vol. 27 nos. 1-3 (1981).
Stephen Michalak, 'My Encounter With the UFO.' Osnova Pub., Winnipeg, 1967.
Full Report / Article
Source: Loy Lawhon, About.com
[go to original source]
A Canadian Close Encounter

During Victoria Day week-end, Canadian Stephen Michalak of Winnipeg, a mechanic by trade, decided to do some prospecting in the Whiteshell Provincial Park . Michalak was an amateur geologist and had been prospecting in the area many times. Others had found several quartz veins near Falcon Lake that were associated with silver deposits, and Michalak had himself found a few promising sites. So, on May 19, 1967, he traveled from Winnipeg to Falcon Lake, where he spent the night in a motel on the Trans-Canada Highway.

Michalak left his motel at 5:30 that morning and headed north into the wilds of the park. At about 9:00 a.m. he found a quartz vein near a small stream. At 11:00 a.m. he ate lunch, then continued to examine the quartz formation. At 12:15 p.m. Michalak's concentration was disturbed by the cackling of some geese. He looked up and was surprised to see two red, glowing cigar-shaped objects descending at a forty-five degree angle. As they came nearer, their appearance became more oval and then disc-shaped.

As he watched, one of the objects stopped and hovered, while the other one descended and landed on a large, flat rock about 160 feet away from him. After a few moments the object still in the air departed, changing from red to orange to grey as it flew into the west and disappeared behind the clouds. The object on the ground also turned from red to grey and finally to the color of "hot stainless steel" surrounded by a golden-hued glow. He had been wearing welding goggles while chipping at the quartz to protect his eyes from flying rock fragments, and now they served the additional purpose of protecting his eyes from a brilliant purple light that was shining through openings in the object's exterior. The object was making a hissing sound and a whirring noise, and it gave off a sulphurous smell.

For several minutes, Michalak stayed where he was and sketched the object. After about half an hour, a door opened in the side of the object, revealing a lighted interior. Michalak decided to move closer, and when he was approximately sixty feet away from the object, he began to hear two voices over the other sounds coming from the object.

Believing that the object was a secret experimental American craft of some sort, Michalak called out in English. There was no response, so he tried Russian, German, Italian, French, Ukrainian, and then English again. There was still no response.

Summoning his nerve, Michalak approached the open door and stuck his head inside. There he saw a maze of lights on what appeared to be a panel, and beams of light in horizontal and diagonal patterns. There was also a cluster of lights flashing in a random sequence "like on a computer."

Not seeing anyone, he pulled back and waited. Suddenly, three panels slid together, closing the opening completely. Michalak then examined the outer surface of the object, noting that it was like highly polished colored glass with no breaks or seams in its surface. He touched it, and it melted his glove.

Falcon Lake Part 2

Without warning, the object moved, and something like an exhaust vent was now in front of him. It was about nine inches high by six inches wide, and contained a uniform pattern of round holes, each about 1/16 inch in diameter. A blast of hot gas shot from these holes onto his chest, setting his shirt and undershirt on fire and causing him severe pain. He tore off his burning garments and threw them to the ground. He looked up in time to see the craft depart like the first, and felt a rush of air as it ascended.

After the object was gone, Michalak noticed a strong odor of burning electrical insulation along with the sulphurous smell he had noticed earlier. Some moss on the ground had been set on fire by his burning shirts, and so he stamped it out.

The spot where the object had landed looked as if it had been swept clean, but piled up in a 15 foot circle was a collection of pine needles, dirt and leaves. As he looked around, he developed a severe headache, became nauseous, and broke out in a cold sweat. His nausea became worse, and he soon vomited. He decided to head back to the motel, and on the way back he had to stop several times because of vomiting.

Finally, after asking for help from a passing RCMP officer and being refused, he reached the motel. At 4:00 p.m., he entered the coffee shop and asked where he could find a doctor. He was told that the nearest doctor was in Kenora, Ontario, 45 miles east of Falcon Lake. Michalak decided to return to Winnipeg rather than go into Ontario.

The next bus to Winnipeg didn't come through until around 8:45 p.m., so he went to his room and called his wife. He told her not to worry, but that he had had an accident and to send their son to meet him at the bus terminal. He got to Winnipeg at around 10:15 p.m., and his son immediately took him to the Misericordia Hospital, where his headache and nausea were treated and the curious burn marks on his chest in the shape of a grid were noted.

Case ID: 376 edit: 376

FAIR USE NOTICE: This page may contain copyrighted material the use of which has not been specifically authorized by the copyright owner. This website distributes this material without profit to those who have expressed a prior interest in receiving the included information for scientific, research and educational purposes. We believe this constitutes a fair use of any such copyrighted material as provided for in 17 U.S.C § 107.