UFO Case Report:
Construction worker sees massive disc-shaped object
Date: March 1, 1978
Location: Pittsburgh, Pennsylvania, United States
A Pittsburgh construction worker and his girlfriend claimed they saw a massive disc-shaped object settle about 2,000 feet over Highland Reservoir. He estimated its size as larger than the reservoir itself. Paul Oles, program director for Buhl Planetarium, also saw a bright light which he "can't explain," about one hour earlier.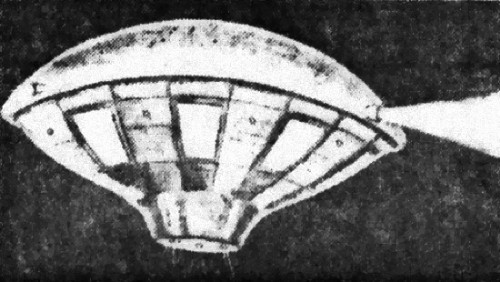 UFO described by Glenn Ricci and Claire Gallery. Illustration by Pittsburgh Post-Gazette artist Leo Walker.
Classification & Features
Type of Case/Report: PressReport
Hynek Classification: ND
Shape of Object(s): Disc
# of Witnesses: Multiple
Special Features/Characteristics: Humming


Full Report / Article
Source: Pittsburgh Post-Gazette (Pittsburgh, PA), March 4, 1978
By HENRY W. PIERCE

Nearly 30 reports of unidentified flying objects allegedly seen in the Pittsburgh area Wednesday night were logged yesterday during an experiment aimed at bringing more objectivity to UFO reports.

The experiment, carried out by a statewide group of UFO investigators based in Westmoreland County, was prompted by an initial report from a district construction worker and his girlfriend who claimed they saw a massive disc-shaped object settle about 2,000 feet over Highland Reservoir about 10:30 p.m. Wednesday.

At the suggestion of the Pennsylvania Center for UFO Research—formerly the Westmoreland County UFO Study Group- the Post-Gazette withheld details of the sighting so reports from other, asked by the UFO group to phone in any sightings, would not be influenced .

The investigators are comparing the reports received yesterday with that of the construction worker and his friend, published here for the first time.

The construction worker—Glenn A. Ricci, 22, of 6921 Bishop St., Morningside—said he and his girlfriend first saw the object at 10:15 p.m. in the vicinity of the O'Hara Township Municipal Building during a drive in the North Hills area.

Ricci said he and Claire Gallery of 1026 Wood-vine St., Stanton Heights, paused for about two minutes along Fox Chapel Road to watch the object, which they agreed was "very bright, much brighter than a star."

A second object, which Ricci described as "incredibly fast, much faster than a plane," flew into view from the north, then turned abruptly and headed directly toward the first object.

They drew close and then disappeared over a hill in the direction of Highland Park, he said.

"I wanted to follow it and find out what it was," Ricci said. "So I drove up Delafield Road and across the Highland Park Bridge to Highland Park, where I figured I could get a better view."

A minute or two later, he said, the object reappeared from the general direction of Downtown.

The object approached from a fairly high altitude, he said, descended steadily and paused over Highland Park reservoir.

He estimated its size as larger than the reservoir itself and its elevation at about 2,000 feet.

He said Claire seemed "in awe of" the object and was asking, "What will we do if it lands?"

He said it carried three triangular lights on the bottom and two red lights at the end.

At the same time, he said, it emitted a low humming sound "unlike any plane I ever heard."

He denied it could have been a weather balloon. Nearby city lights combined with lights from the object revealed structural features that resembled paneling, Ricci said. .

It hovered briefly over the reservoir, then headed back in the general direction of Downtown and angled upward, he said.

When Paul Oles, program director for Buhl Planetarium, was asked whether he had noticed any unusual phenomena that night, he said he had seen "a peculiar thing I can't explain."

"I was on Perrysville Road (on the Northside) about 9 p.m. and observed a bright light in the sky," he said. "I initially thought it was a floodlight from a plane, but after watrhing it for a few seconds I became uncomfortable with that explanation. For one thing, it didn't seem to be moving in any direction. and for another, the light appeared to be scanning. I finally satisfied myself by saying it must be a floodlight from a lane and that the angle I was seeing it from made it appear stationary. Perhaps, I thought, the actual movement of the plane produced what appeared to me lo be the scanning quality."

There appeared to be at least one major discrepancy between Oles' and Ricci's stones—the time. If they both saw the same object, it would have had to remain in the area for more than an hour.

But suppose other people in the Pittsburgh area had seen a similar object. A news account might encourage them to come forward with their own stories-but their stories might be colored by Ricci's description.

Readers were encouraged to notify the UK) investigating group at 863-3874 and let the Ufologists make their own comparisons.

The resulting calls are still being evaluated, but Robert Cowell, the organization's director, said late yesterday that it "appears that something very large, low and bright" did appear in Pittsburgh-area skies between 10:15 and 11 a.m. that evening.

Most of the calls, he said, came, not from the North Hills, but from eastern and southern districts -Monroeville, Penn Hills, Edgewood, and the South Hillso.

The closest sighting, he said, was reported by three women who were standing in a golf house in Schenley Park, who described a circular object carrying small white lights, relatively close to the ground. "They insisted it couldn't have been a plane," he said.

"We are still studying the reports and, at the moment, have no firm conclusions to report."

Meanwhile Ricci and Claire, at the request of the Post-Gazette, cooperated with P-G artis Leo Walker to reproduce their impression of what they saw.

Case ID: 438 edit: 438

FAIR USE NOTICE: This page may contain copyrighted material the use of which has not been specifically authorized by the copyright owner. This website distributes this material without profit to those who have expressed a prior interest in receiving the included information for scientific, research and educational purposes. We believe this constitutes a fair use of any such copyrighted material as provided for in 17 U.S.C § 107.