UFO Case Report:
The 'Sea Fury' Incident
Date: August 31, 1954
Location: Nowra, Australia
One of the most controversial radar visual reports of the fifties occurred on August 31st, 1954. The story leaked out in December, 1954, and made front page headlines. The official navy file on the event remained classified until the Directorate of Naval Intelligence released a copy upon my request in 1982. During his 1973 visit to Australia, Dr. Hynek was able to interview the pilot involved in this famous incident.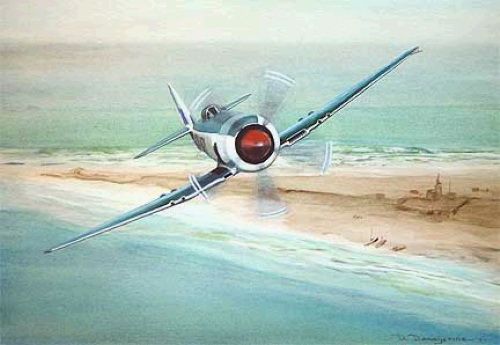 Classification & Features
Type of Case/Report: MajorCase
Hynek Classification: RV
Special Features/Characteristics: Radar, Pilot/Aircrew, Military


Full Report / Article
Source: Bill Chalker
[go to original source]
One of the most controversial radar visual reports of the fifties occurred on August 31st, 1954. The story leaked out in December, 1954, and made front page headlines. The official navy file on the event remained classified until the Directorate of Naval Intelligence released a copy upon my request in 1982. During his 1973 visit to Australia, Dr. Hynek was able to interview the pilot involved in this famous incident, which became known as the "Sea Fury" encounter.

Dr. Hynek made his notes on this interview available to me during my 1984 visit to the Chicago headquarters of his organisation, the Centre for UFO Studies (CUFOS). I, in turn, provided Dr. Hynek with a copy of the official file on the incident.

Lieutenant J.A. O'Farrell was returning to Royal Australian Navy Air Station Nowra after a night cross country in a Sea Fury aircraft. After contacting Nowra at about 1910 hours, O'Farrell saw a very bright light closing fast at one o'clock. It crossed in front of his aircraft taking up position on his port beam, where it appeared to orbit. A second and similar light was observed at nine o'clock. It passed about a mile in from of the Sea Fury and then turned in the position where the first light was observed.

According to O'Farrell, the apparent crossing speeds of the lights were the fastest he had ever encountered. He had been flying at 220 knots. O'Farrell contacted Nowra who in turn confirmed that they had two radar "paints" in company with him. The radar operator, Petty Officer Keith Jessop, confirmed the presence of 2 objects near the Sea Fury on the G.C.I. remote display. The two lights reformed at nine o'clock and then disappeared on a north easterly heading. O'Farrell could only make out "a vague shape with the white light situated centrally on top."

The Directorate of Naval Intelligence at the time wrote that O'Farrell was "an entirely credible witness" and that he "was visibly 'shaken' by his experience, but remains adamant that he saw these objects"

In a recent interview, "Shamus" O'Farrell described the incident:

"I said, "Nowra, this is 921. Do you have me on radar." "And a few seconds later they came back and said, "Affirmative 921. We have you coming in from the west. We have another two contacts as well. Which one are you." "I said, "I think I'm the central one." And so they said, "Do a 180...for identification." So I did a quick 180 and then continued on around and made it a 360 back to where I was going.

"They said, "Yes, we've got you. You're the centre aircraft." I said that's correct. They then said to me, "Who are the other two aircraft," and I said, "I don't know. I was hoping you would tell me, because I didn't think there was anyone up here. "They said, "Well there shouldn't be, and they certainly shouldn't be that close to you."

"So the conversation went on like this and I was very pleased to be talking to somebody because it gave me a lot of reassurance. With that these two aircraft came in quite close to me and I could really see the dark mass and that they were quite big, but I couldn't make out any other lights or any other form of an aircraft. With that they took off and headed off to the north east at great speed.

"I was about to press the button and tell them at Nowra that the two aircraft were departing when Nowra called me up and said, "The other two aircraft appear to be departing at high speed to the north east. Is that correct?" and I said, "Yes!". And they said, "Roger, we'll see if we can track them." They tracked them for a while and then lost them. "I came in and landed at 7.30 (1930) and when I got there there were quite a few people waiting for me. I thought it was a bit strange and so they came over, and they said, "You sure you had aircraft out there!", and I said yes.

The Surgeon Commander came over and spoke to me. He said did I feel sick, or was I upset. I said no. He ran his hand over my head to see whether I had any bumps. He had a look at me and decided I was okay. So then he said, "Perhaps you'd like to come to the sick bay after you've changed and we'll do an examination." So after I was finished I went up to sick bay and he gave me a more thorough medical, and said, no, I appeared to be alright. I found out later, that at the same time, they checked to make sure I hadn't been drinking before I took off and all that sort of thing."

During this interview, Dr. Hynek's involvement came up:

"This man (Hynek) - a professor - had made a study of thousands of sightings all around the world and he had decided my sighting was one of those that he had not been able to explain away by other means. Any way I had a talk with him. He was a very interesting chap and he made the comment that there were about 13 or 15, I don't remember, sightings that he was aware of over the years that were like mine and could not be explained away. The interesting thing he said was that all of these sightings had been made by professional people in aviation.

By that he meant they were military pilots, military air crew, civil aviation operators, air traffic controllers, and the like, or airline pilots. These were the ones he was now (1973) going around meeting the people themselves and investigating. All the others he had written off and had been able to explain down to some other phenomena. It came to the point where he said, "Your sighting cannot be explained away." And he left it at that. To this day I wouldn't know where it came from or where it went."

I have had the opportunity to talk extensively with Shamus O'Farrell. I was particularly interested in how the interview with Dr. Hynek in 1973 came about:

"It was done through Sir Arthur Tange, who was secretary of the Department of Defence at the time. Hynek contacted him direct.... Sir Arthur Tange contacted me and said Hynek was coming out. He had written to him, through the US Embassy, to set up a meeting.... And the next thing I knew I had a telephone call one day from Sir Arthur Tange saying that Hynek was coming and he would like me to met him. I said, well, I haven't got all the facts, there all a bit hazy. So he sent me the two Defence Department files over to read, to refresh it all."

Bill Chalker: "That seems to indicate a high level of interest in Hynek's visit at the time?"

"Yes, well, I don't think so. All that happened was that it was more of a courtesy because he was a very important guy, Hynek, and they wanted to show him the courtesies etc. As far as Defence was concern it was dead and forgotten but they had not got rid of the files. They kept them. Normally when files like that are written off they are either decided they'll put them in Archives or dispose of them and destroy them. But they had done neither. They had remained in the JIO. They'd kept them. I don't know what they had in mind about it, I never questioned it. I just used them as a means to refresh my memory.

"Later the guy who became the chief Defence scientist, John Farrands, was very interested in it too, and he had done a lot of early investigations in most of the reports when he was chief defence scientist and in the period just before he became chief defence scientist. He had a talk with me. I was a friend of his. I use to meet with him at lunch. He went over it in great detail. He knew it all. He agreed it was something that couldn't be refuted. No matter how hard they tried, and they tried very hard to knock it all back. They checked everything from medical, down to when was the last time I had had a drink..."

Bill Chalker: "That must have been a bit of a concern to you?"

"Well, I wanted to hush it all up. That sort of investigation made me look a bit of a fool. I was worried it wasn't going to do my career any good. "(Apart from the radar witness) it locked in a sighting over the NDB (non directional beacon) at Narulan, at the same time. There happened to be a guy working on the NDB. It was down at the time. He had gone to repair it. He happened to look up at the time because he saw these lights fly overhead. Also the air traffice control officer in the tower at Mascot saw them approaching him. "It was all investigated by the then RAAF guy who did it and later it was also investigated by the Joint Intelligence Bureau."

In 1993 I assisted The Extraordinary television programme with a recreation of the Sea Fury incident. Shamus O'Farrell, Keith Jessop and I were interviewed on the show. The case stands as one of the best unexplained radar visual UFO cases on record in Australia.

Case ID: 66 edit: 66

FAIR USE NOTICE: This page may contain copyrighted material the use of which has not been specifically authorized by the copyright owner. This website distributes this material without profit to those who have expressed a prior interest in receiving the included information for scientific, research and educational purposes. We believe this constitutes a fair use of any such copyrighted material as provided for in 17 U.S.C § 107.