Cases 1 - 8 out of 132 in this section
Next Page >>
Last >|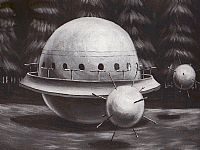 Forester Encounters Mine-Like Entities in Scotland (the Dechmont Woods Encounter)
November, 9, 1979 - Livingston, Scotland, United Kingdom
Robert Taylor, a forester from West Lothian, Scotland, encountered a strange object and equally strange smaller objects or "entities". The rounded larger object, 20 feet in diameter, hovered above the ground. Then, two small objects, which were round but had appendages, "rushed" toward him. These objects each attached itself to one (each) of his trouser legs and tugged him towards the larger object, at which time Taylor lost consciousness. Ground marks were discovered at the scene of the encounter. View full report
Source: APRO, July 1980 ID: 682
Case Type: StandardCase Features: Landing, Humanoid/Occupant, Smell/Odor, Physical Trace, Witness Photo
Star-shaped objects observed for several nights over Ingolstadt, Germany
September, 6, 1979 - Ingolstadt, Germany
Star-shaped objects were observed for several nights in September 1979 over the city of Ingolstadt. Since that time members of MUFON-CES, the German UFO research organization, have interviewed several flight controllers, a dozen police officers and numerous other witnesses. They have also analyzed photographs and radar recordings that where made on film. View full report
Source: Illobrand von Ludwiger / MUFON-CES, (1998) ID: 653
Case Type: StandardCase Features: Group Sighting, Police, Pilot/Aircrew
UFO Abduction at Maringa (Jardim Alvorada Affair)
April, 13, 1979 - Maringa , Brazil
The Jardim Alvorada Affair is the study of a UFO abduction involving sexual relations and dialogue with the crew of a UFO. The case was investigated by the Center for Flying Saucer Research. The investigation included a number of interviews with the two main witnesses, who are brothers, and then hypnotic regression sessions, which were carried out by Dr. Oswaldo Alves, an MD. View full report
Source: A. J. Gevaerd ID: 1033
Case Type: StandardCase Features: Abduction, Physiological Effects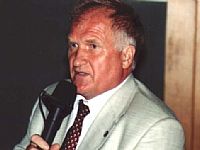 Soviet Cosmonaut shadowed by UFO in Earth orbit
April, 1979 - Earth orbit, enroute to Soviet Solyut 6 Space Station,
In April of 1979, Cosmonaut Victor Afanasyev lifted off from Star City to dock with the Soviet Solyut 6 space station. But while en route, something strange happened. Cosmonaut Afanasyev saw an unidentified object turn toward his craft and begin tailing it through space. View full report
Source: Sightings TV ID: 392
Case Type: StandardCase Features: Astronaut/Space, Witness Photo
Do UFOs Correct Calendar Watches?
March, 27, 1979 - Oak Bluffs , Massachusetts, United States
Apparently in contact with the water, was a luminous green cylinder with rounded ends at a distance estimated at about 200 feet. View full report
Source: Joseph Nyman, Mass. MUFON Chief Investigator, Mass. MUFON ID: 4
Case Type: StandardCase Features: Water-Related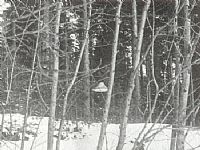 Mini-UFOs and Metal Pieces in Finland
March, 16, 1979 - Suonenjoki, Finland
Suddenly Jarmo heard a humming sound obliquely from behind. He turned around. At an altitude of about two meters he saw a bell-shaped mini-UFO. Now he started taking photos of the UFO. It radiated blue light and moved forward descending and ascending. After having taken five photos he started walking toward the UFO. Then the UFO disappeared. View full report
Source: APRO Bulletin, Vol. 28, No. 5, Nov. 1979 ID: 410
Case Type: StandardCase Features: Photo, Physical Trace, Artifact, Humming
Disk-like craft hovers low, 'people' visible in windows
March, 1979 - Michigan, United States
From the witness: "The disk like craft came down directly over the church/rectory and hovered about 20 ft. above it.... It was disk-like with a very wide band of windows around the middle of the thing.... There were people/beings (?) looking down at me.... Two of them then were standing up and came up to the windows, and they just started down at me and the car.... I could see right into their craft. It was very brightly lit up inside." View full report
Source: MUFON ID: 1186
Case Type: RawReport
Monroe, NC man is abducted and has meeting with occupant of craft
March, 1979 - Monroe, North Carolina, United States
In March 1979, Pat Eudy was driving home when he saw a bright light in the sky, after which his memory went blank, leaving a "missing time" of about three hours. A session with a psychologist allowed Eudy to reconstruct what happened. "[I remember being on] board (a UFO) and seeing an astronaut in a suit," Eudy said. The being stood about 5 feet tall..." Eudy asked a lot of questions about how the craft worked, and he was strapped to a chair where possible tests were performed. View full report
Source: Monroe Enquirer-Journal (Monroe, North Carolina), 9/27/81 ID: 938
Case Type: PressReport Features: Abduction, Missing Time
Cases 1 - 8 out of 132 in this section
Next Page >>
Last >|
Cases per page:
8
16
24