UFO Case Report:
Multiple witnesses observe disc-shaped object over Chicago O'Hare Airport
Date: November 7, 2006
Location: Chicago, Illinois, United States
At approximately 16:30 p.m. (Central) on Tuesday, November 07, 2006, Federal authorities at O'Hare Airport received a report that approximately a dozen witnesses were observing a small, round disc-shaped object, metallic in appearance, which hovered over Gate C17 at that airport.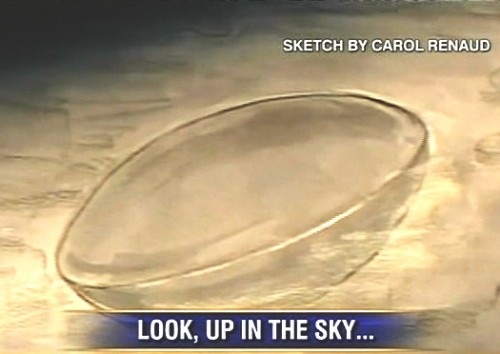 Drawing of the object by Chicago sketch artist Carol Renaud, according to the description given by one of the witnesses, an aircraft mechanic. (source: CNN)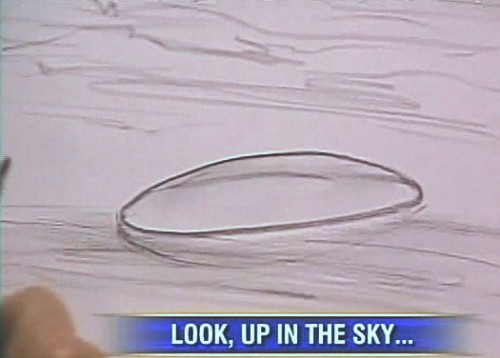 Sketch artist creating the drawing of the object. (source: CNN)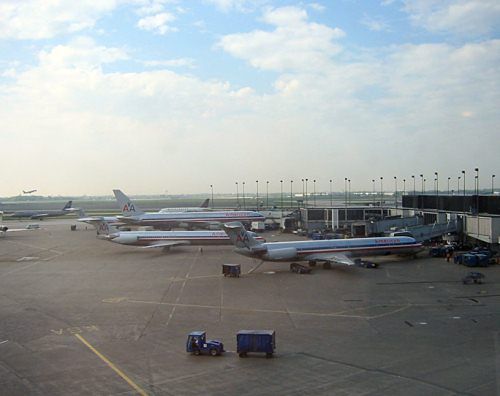 Photo of planes waiting at terminals at Chicago O'Hare Airport. (not a picture of UFO sighting)
Classification & Features
Type of Case/Report: MajorCase
Hynek Classification: DD
Shape of Object(s): Disc
# of Witnesses: Multiple
Special Features/Characteristics: Rotary/Spin Motion, Pilot/Aircrew, Group Sighting, E-M Effects


More Articles on this Case
CNN, Jan 5, 2007
CNN's Gary Tuchman talked to one of the airport workers about what he says he saw. R
CNN 'American Morning' program, January 3, 2007
About a dozen United Airlines ramp workers telling the Chicago Tribune they saw weird-looking, frisbee shaped aircraft hovering motionless over terminal one, concord C R
NUFORC ( National UFO Reporting Center), Peter Davenport, Direcotr
NUFORC has received a second report about this incident from a senior aircraft mechanic, who was taxiing a Boeing 777 at the time of the sighting, and who witnessed the object. R
Associated Press, January 1, 2007
A group of workers, including pilots, told the Chicago Tribune on condition of anonymity in remarks published Monday that they saw a dark gray, flying saucer-like object hover motionless in the sky above the United terminal around 4:30 p.m. that day. R
NPR (National Public Radio) (Credit: Tracy Key
UFO Is Reported at O'Hare; Feds Are Silent. In November, a grey saucer-like object was spotted hovering above Chicago's O'Hare International Airport. Up to 12 United Airlines employees spotted the object and filed reports with United. Melissa Block speaks with Chicago Tribune transportation report Jon Hilkevtich, who reported on the incident. (Link to Page with Audio) R
NUFORC (National UFO Reporting Center)
"I'm a management employee for a major airline and was sitting in my office at around 1630 on Nov. 7th when an employee made a radio call to our station operations center concerning an object hovering over gate C17 at O'hare International Airport." R
Chicago Tribune, January 1, 2007 (reporter: Jon Hilkevitch)
Second, longer and more in-depth article on O'Hare UFO sighting by airline employees. R
Chicago Tribune, Jan 1, 2007
Link near top of page/article to video interview with Tribune reporter Jon Hilkevitch who investigated and reported on this incident.
Jeffe Rense (Rense.com), December 12, 2007
The eyewitness described a perfect disc that he and a co-worker watched for many minutes hovering at a very low 1900 feet just below the cloud base right over one of the world's busiest airports in broad daylight. The two were ferrying a large United jetliner from one side of O'Hare to the other as they watched the UFO/craft hovering directly above one of the main terminal gates.
CNN Headline News' 'Glenn Beck' Program, Jan. 3, 2007
Chicago O`Hare`s airport recently -- the United Airlines employees claim they observed a flying saucer-like object hovering low over the terminal for several minutes before bolting through the thick clouds with such ferocity that it actually left like a creepy hole in the cloudy skies overhead. R
Steve Hammons, American Chronicle, Jan. 4, 2007
Reports about a disc-shaped craft hovering over Chicago's O'Hare Airport have resulted in widespread news coverage within the mainstream U.S. media and international news outlets. R
abovetopsecret.com forums
Report from a witness, United Airlines employee, describing the sighting. R
Leslie Kean (credit: Richard Hall)
ON NOV. 7, during the late-afternoon rush at Chicago's bustling O'Hare International Airport, something truly astonishing happened. R
Full Report / Article
Source: NUFORC (National UFO Reporting Center), Peter Davenport, Director
[go to original source]
The National UFO Reporting Center has received the following information from a single source, who, for the time being, wishes to remain anonymous, and who prefers not to reveal for what entity he works. We have received documentation about the alleged sighting, which satisfies us as to the veracity of the report, and as to the credentials of the party reporting the incident.

We have delayed release of this case, principally because an investigation was begun almost immediately after our receipt of the initial report, and because we were hoping to obtain addition documentation about the sighting, before it could be concealed, or destroyed.

At approximately 16:30 p.m. (Central) on Tuesday, November 07, 2006, Federal authorities at O'Hare Airport received a report that approximately a dozen witnesses were observing a small, round disc-shaped object, metallic in appearance, which hovered over Gate C17 at that airport.

The object was first spotted by an employee, working on the ramp, who was engaged in "pushing back" Flight 446, departing Chicago for Charlotte, NC. The employee reported to his supervisors that the object appeared to be almost directly above his location at Gate C17, it appeared to be perfectly round, and that its size was approximately equal to a U. S. quarter, held at arm's length. The object had a metallic appearance, according to the first witness, and it appeared to him to be spinning.

The first witness apprised the flight crew of Flight 446 of the existence of the object above their aircraft, and we believe both the pilot and copilot were witness to the bizarre object, as well. The witness also contacted his supervisors, who also witnessed the object, which was visible for approximately 2 minutes.

At the end of that time, the object was seen to suddenly accelerate straight up at a very rapid pace, and it "shot" through the solid overcast, which was at 1,900 feet at the time. The witness added that the object appeared to leave a "hole" in the clouds, where it had streaked upwards through the overcast.

Both the Federal Aviation Administration and Transportation Security Administration were apprised of the event at the time it was occurring, and personnel in one, or more, of the towers at O'Hare may have witnessed the object, possibly with binoculars. The FAA apparently reported that the object was not visible on radar, although that fact has not been confirmed at the time of this writing.

We hope to be able to release more information about the incident at some time in the near future. In the meantime, we would like to invite anyone who may have been personal witness to the event to submit a report of their sighting, using our Online Report Form. We would be most grateful if you would indicate in your report where you were located, at the time of the sighting, and what the object looked like, from your vantage point.


Case ID: 958 edit: 958

FAIR USE NOTICE: This page may contain copyrighted material the use of which has not been specifically authorized by the copyright owner. This website distributes this material without profit to those who have expressed a prior interest in receiving the included information for scientific, research and educational purposes. We believe this constitutes a fair use of any such copyrighted material as provided for in 17 U.S.C § 107.